We have developed a great number of products for the enhancement of casting technology. However if our products are not properly used, the expected good performance will not show. We see it as our responsibility that customers can use our products in a long term and in a correct and effective way. That`s why we are conducting coating training course and coating application instructions.
・Cultivate operators
・Improve technology
・Re-recognize the importance of die coating material
After understanding die coating material, you can get down to improving casting quality and handle casting defect and claim issue.
Please do not hesitate to contact us if you have any questions.
Coating applicatio training course and application instruction
In our training course, we use test piece and real die to explain from the definition of die coating material to coating application management.
We also make proposal about coating application method to realize long coating life.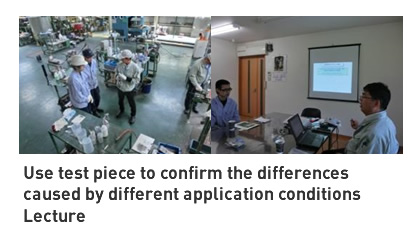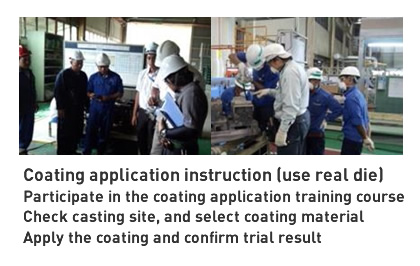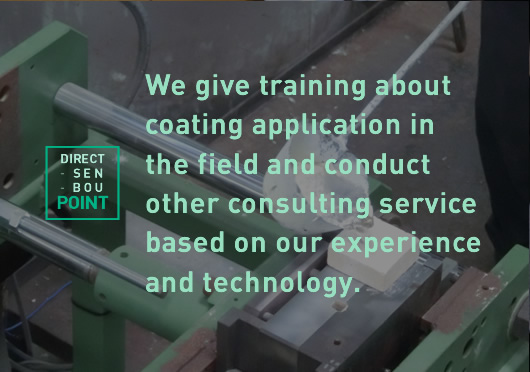 For the problems and concerns from foundries, such as productivity, quality improvement and defect analysis, our experienced technical staff will give consulting service accordingly. Our consulting service covers all the casting-related technology and R&D. We have been engaged in developing products that revolutionized casting technology for over 30 years.
Our speciality is our proposal ability for problems that normal analysis can not solve.
By selecting the most suitable technology and meeting customers` various needs accurately, we have been supporting technology revolution and application of advanced technology.
Casting Consulting
Planning・Proposal regarding casting line
Provide casting technology
Proposal regarding improving productivity・Measure
Proposal regarding improving quality・Measure
We provide instructions not only about die coating materials, but also in the whole casting process, including raw material, melting, die, gating system, casting, heat treatment, device, etc.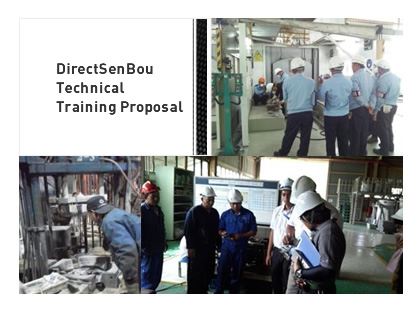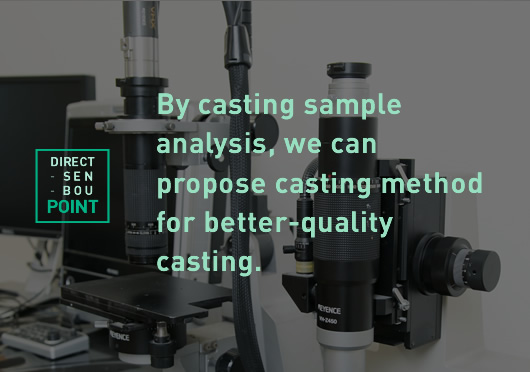 By conducting casting sample analyisis, we get to know the mechanism for the occurrence of casting defects and then make proposals about modifying gating system, etc. We try to propose casting method that need minimum modification after the first trial and can produce higher quality casting.
・Review gating system
・Discuss about countermeasures for casting defects
・Investigate casting defects
・Adjust die temperature
We are willing to give our support to customers having trouble in casting defects or die gating system, or in search of the most suitable casting conditions.
Casting Sample Analysis 
Identify casting defects (porosity, inclusion, crack, etc.) from micro and macro structure and make proposal about countermeasures.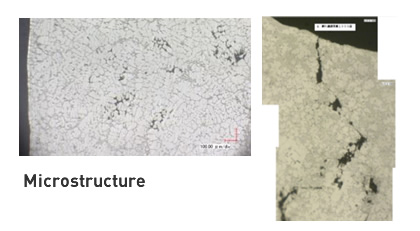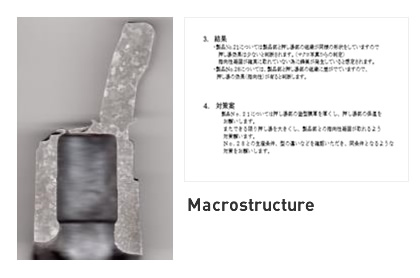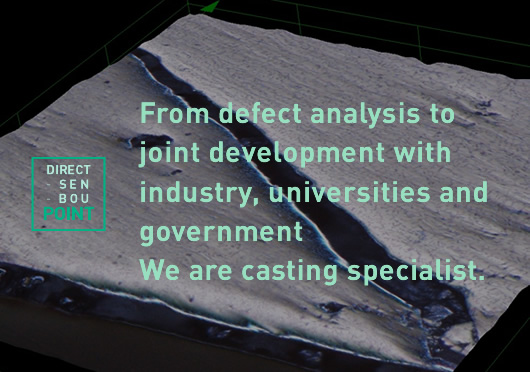 R&D work in casting requires technologies from a number of technical fields. Besides improving R&D ability in our company, we also flexibly utilize technologies from outside of our company by working together with universities and other institutions on R&D projects.
Joint Research
We conduct R&D together with universities and other institutions, such as National University Corporation Gifu University, National University Corporation Toyohashi University of Technology, etc.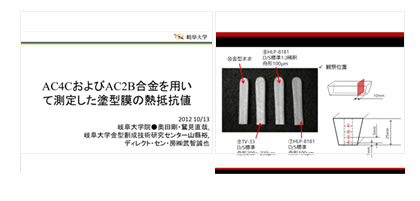 Head office and Factory:

444-0704 20-1, Nishibasama, Toba-cho, Nishio-city, Aichi, Japan

Onogaya Institute:

444-0703 25, Bamba, Nishihazu-cho, Nishio-city, Aichi, Japan
Copyright (C) Direct Sen Bou Co., Ltd. , All Rights Reserved.